Training & Internship in the U.S
We are specialized in assistance of J1 visa training and internship visa in the United States for foreign nationals, especially for Japanese nationals.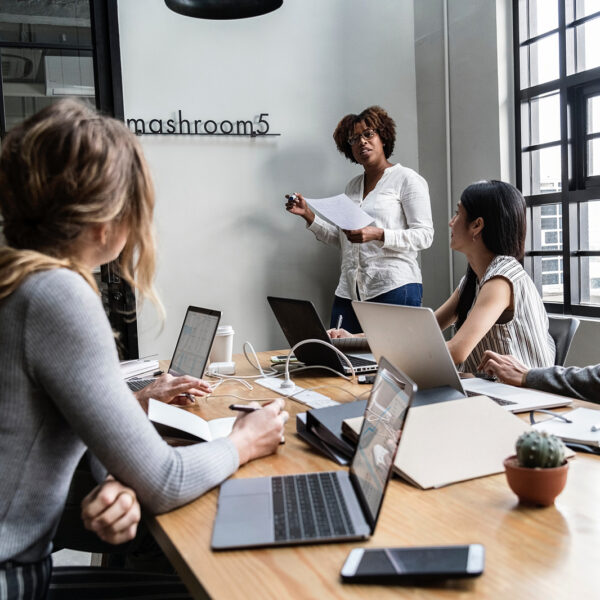 Training/Internship Opportunities
Internship/Training Program
J-1 Visa Internship/Training Program is a U.S. Department of state program designed to increase mutual understandings between the people of the United States and the people of other countries by means of educational and cultural exchanges. The program allows eligible foreign nationals to receive training or participate in Internship/Training in the United States for up to 12 months or as a Trainee for up to 18 months.

Designated by Department of State
Visa Sponsored Organization
J-1 Visa sponsored organizations are designated by the U.S Department of State to ensure that program regulations are being upheld and appropriate measures are being taken to give a positive experience to all involved. 
In order to apply for the J-1 visa, participants have to obtain the Certificate of Eligibility form, called "DS-2019." which will be issued by the J-1 visa sponsor organizations.
DS2019 Form is registered through the Student and Exchange Visitor Information System (SEVIS) of the U.S. Department of State.
Infinity Wiz provides assistance in obtaining the DS-2019 forms, and applying for J-1 visa.
Please also access to the J-1 Visa Official site: 
Exchange Visitor Programs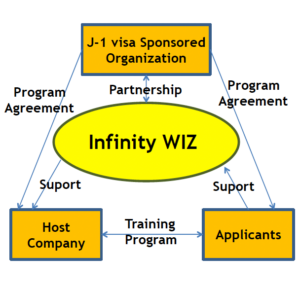 Participants
- Has a degree from a foreign post-secondary academic institution and at least one year of prior related work experience in his or her occupational field outside the United States, or
- Has five years of work experience outside the United States in the occupational field in which they are seeking training, or
- Currently enrolled in and pursuing studies at a foreign degree-granting post-secondary academic institution outside the United States, or
- Has graduated from such an institution no more than 12 months prior to his or her exchange visitor program start date.
U.S Company
1. Annual Revenue of $3 millions in the U.S and 25 employees at training location
If a company does not meet above conditions…
The sponsor organizations will conduct a site visit at training location and they will evaluate and approve the company as a J-1visa host company ($300 site visit fee will be charged to the U.S company).
2. Have Employer Identification Number (EIN)
3. Have a company website in English
4. Proof of worker's compensation insurance policy
5. More than 5 employees
6. More than one year since a company started operation in the U.S
7. Appropriate office environment for training (Home office is not acceptable)
Internship/Training fields
Internship/Training Placement
Introducing foreign students or young professionals to U.S companies at no cost (Free of charge)
J-1 Visa Processing Assistance
Assisting in processing DS2019 form and J-1 visa interview at U.S Embassy/Consulate
Infinity Wiz, Inc was launched in July, 2016 to provide support services related to the J1 Visa
training/internship program in the U.S. for foreign nationals, especially for Japanese nationals. 
We have extensive J1 visa knowledge and experience over 15 years and coordinate  foreign nationals
to experience training/internship in the U.S for their future career development. 
We provide our applicants and host companies the maximum support of the preparation of their J-1 visa application documents,
visa interview at U.S Embassy, and ongoing support during internship/training period in the U.S.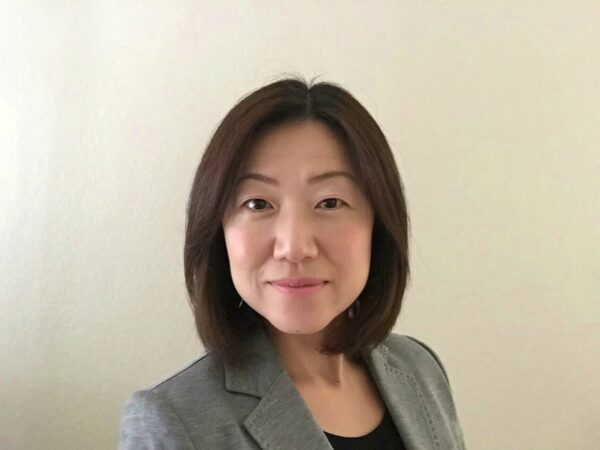 J1 Visa Consultant/
President 
More than 15 years of J-1 visa  experience since 2003.
I will provide J-1 visa consultation and support to foreign nationals seeking to take advantage of the J-1 Visa Internship/ Training Program in the U.S and assist in J-1 visa processing. 
Infinity Wiz, Inc 
21171 S Western AVe, Ste2706 Torrance CA 90501